Weddings & Events
Villa Spinosa is a charming place which can be turned by its nature into the perfect location for your very special moments, ceremonies, wedding receptions and corporate events.
The vast choice of elegant spaces offered by the Italian style garden overlooking the vineyards, the villa, the rural courtyards and the nineteenth-century cellars can create the best atmosphere for your event.
A nice and elegant setting
for your reception
The wide range of indoor and outdoor spaces of a 19th century estate and the enchanting backdrop created by the sorrounding vineyards of the Valpolicella are ideal to host every single moment of your wedding or event, from the welcome drink up to the cake cutting, according to your needs and the different seasons.
Outdoor spaces
An open air party in the garden is a choice of great charm.

When the weather is fine, the garden and the courtyard looking onto the vineyards become a unique and original location, where the catering service will set curtains, pavilions and pagodas for a cocktail, a welcome drink, the dinner or the cake cutting.
Indoor spaces
The indoor spaces, fascinating places for the wine production, create a unique backdrop for your wedding or event in the heart of the Valpolicella.

Palajago facing the vineyards, Fruttaio and Granaio Alto looking onthe the romantic Italian style garden, and Tinaia built inside the 19th century cellar are amazing venues of different size and feel.
Tips for your event
Guests appreciate and remember every attention to details, which make your event unique.
We want to embellish it with very special moments as much as you do.
That is why we offer some personalized proposals, inspired by our world of wine, and recommend some partners we had the chance to know and appreciate along the years. 
Our proposals
Our proposals are inspired by the world of wine and the land of Valpolicella. 

A bottle of wine with a personalized label is an original party favour or gift, a visit of the Villa Spinosa cellars along with guided wine tastings may entartain your guests, garden, vineyards and cellars can be used to create a special backdrop for your photographs, Agriturismo Corte Spinosa is the perfect place to accommodate those willing to stay close to the event venue. 
Our Partners
We recommend you a network of professionals we had the chance to know and appreciate along the years.

We are sure they will be able to guarantee you excellent and quality arrangements and services:
from the catering to the wedding planner, from the floral and decor supplies to the wedding cake,
from the music to the children's entertainers, from the photo shoot to the travel agency for your honeymoon.
Request Information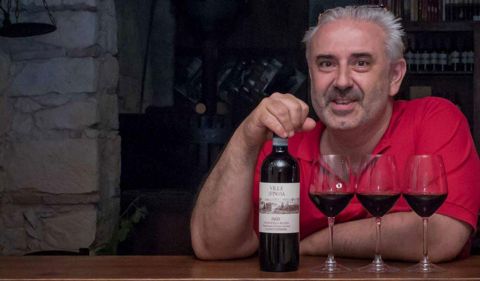 Write to us for further information just for a visit.

It will be our pleasure to let you know
all the "Wedding & Events"
proposals of Villa Spinosa.